On sunday 19th of june Fay, our Labrador, has given birth to 9 beautiful pups. At half past 7 in the morning she woke us up as the first puppy was due to arrive:
Take one home?
Feel like giving one of Fay's pups a loving and caring home? Want to come over and cuddle a few pups for yourself? Still have questions? Then don't hesitate to send a message to info.9pups@gmail.com, or give us a call (+32) 474 024 857. We are located in the Belgian Ardennes near La Roche en Ardenne - Ortho.
Who's Fay?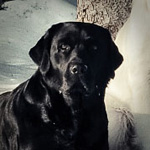 Fay is our pure breed Blacksugar Labrador bitch (2006) and she just turned mom. Again. For the second time... Last year, we where surprised to find a Border Collie cuddling Fay. Two months later Fay presented to us 2 little pups, we called Spot and Stripe. We managed to find a nice home for Stripe in Luxemburg with very dog loving people. But 'Spottie', we grew so fond of him that we decided to keep him our self. We are still enjoying Spot's company every day, together with his mum Fay and his best friend Jessy, our Golden retriever.
As we have much more animals around, we decided three dogs is more than enough. As a result we decided to raise our fences to keep all future father-dog out. That seemed to work out rather fine, for a while... The same Border Collie that visited Fay last year managed to jump our fences, had his way for the second time and left. Eight weeks later Fay gave birth to 9 pups...
Now we have to accept the challenge of finding a good home for all of them. Although, the one with the white booths is so cute, maybe if we'd keep this one ourselves? Or no, the one with the white spot on his belly ... or ...
Lesson learned? Presumably, yes. Our Border Collie villain will be by-passed every possible next time.
Fay would love for you to give her pups a new home. If you are interested or you know anyone who might be interested, just let us know!
Questions?
Are you a breeder?
No, we are not breeders, we just had a fence that was to low and another dog in town that felt like securing it's offspring.
Why are you selling them?
As we have lots of other animals at the farm and already enjoy 3 dogs, we just can't keep all the newborns. We wished the father-dog never visited our dog Fay in the first place but he did. So now it's our responsibility to secure a good home for every pup.
Are the pups free of charge?
No they are not. We charge 180 Euros for them and there are mainly 2 reasons for that. The first one is that the pups cost us some money. The vet is coming over to check upon them. They will get their own papers, passport, electronic ID, and all the vaccinations needed. The second reason is that a puppy is not a give-away and neither a toy. Asking a fee for each pup will increase its chances towards a happy life. We wish to send our pups to good homes with caring owners where they can stay their whole lives.